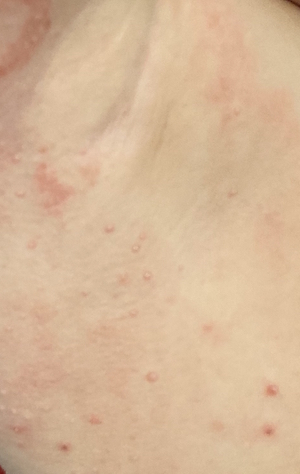 We can see:
- a large number of small pus developing bumps in a semi-mature state diagnosed as molluscum
- generalised inflammation showing both beginning stage molluscum and eczema (scaly skin; often associated with molluscum). Mollenol has exposed a number of small molluscum bumps in the scaly skin
- inflammation of some individual molluscum bumps (the red ring around some)
- a couple of bumps on the side of the torso which seem to being dying off - these are the very red bumps which look like they are scabbing over.
- and, other bumps without any signs of inflammation
Using Mollenol to treat this infection
1. apply Mollenol to the bumps which have no sign of inflammation as well as too the bumps which have a red ring around them. Apply only to the head of the bumps in the way. If you can put a Mollenol Patch or bandaid on top of the biggest ones then you only need to apply Mollenol once per day. If not apply Mollenol twice per day.
2. for the generally inflamed area on the right arm. Give this a rest for 1-3 days without applying Mollenol. Keep an eye on the bumps. It is likely that some of these bumps will be stunted (stop growing) or reduce in size.
3. the very red bumps which might be scabbing over - just keep an eye on these, no need to apply Mollenol. They are likely to heal in a few days.
Molluscum is a localised skin virus. Every bump is a site of infection which needs to be treated and healed through the process.
Recent Posts
We can see: - a large number of small pus developing bumps in a semi-mature state diagnosed as …

Whatever you want to call it. Molluscum often develops into a pus filled bump with a central dimple. …

Absolutely amazed with this product! More: Mollenol Before & After Testimonials Mollenol Re …