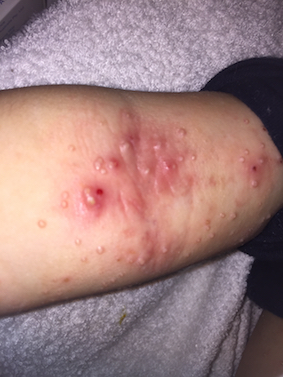 This child has an advanced and extensive molluscum infection.
There are a large number of pus filled molluscum bumps about to burst. This will spread the infection if preventative action is not taken.
There is also likely to be beginning stage molluscum elsewhere on the child's body.
In relation to the recommended application regime using Mollenol on this child's arm:
1. apply Mollenol Sensitive on the head of each of the molluscum bumps which are not burst or open.
2. cover the area so that the pus is restricted in spreading by applying protective surgical gauze and/or wrap the whole area in cotton gauze.
Repeat this 1 or 2 times daily until some/most/all of the pus heads burst or are reduced in size and then re-assess the situation.
Keep the area dry for this time.
Recent Posts
A child has been scratched and the molluscum virus has entered the dermis and grown over several wee …

This child has an advanced and extensive molluscum infection. There are a large number of pus fill …

Use of guaze and bandage to treat large scale, extensive and mature molluscum infection. Parent …